In this post, we check out the best follow me drones. These are the drones that can follow you without the need to be piloted by you.
Drones are the future of remote-controlled aerial vehicles. They have grown from being hobbyist toys to versatile and highly effective devices.
Today, there are powerful drones which can be used for purposes such as surveillance, aerial acrobatics, photography and video recording.
Journalists, explorers, movie producers, and extreme sports enthusiasts heavily employ drones to record activities from a bird's-eye view. They specifically prefer to follow me drones for this purpose.
These flying robots are set to automatically follow a specific target and capture footage or take photos. This results in awesome, target-oriented recordings and snapshots. To get the best performance in follow me mode, you should invest in the highest quality drones.
Here is a demonstration of the Follow Me Mode
Best Follow Me Drones 2019 List
Here are the best of the best follow me drones 2019.
3DR Solo Follow Me Drone
This is one of the most effective and best follow me drones 2019 in the market.
It is very popular due to its affordable cost.
The 3DR Solo follow me drone presents high-quality features at a price that won't break your bank.
Formerly the flagship model of 3D Robotics, this drone no longer holds that position for the brand. After shifting a level down in their line of drones, the model went from costing $700 to $300.
This was a major price drop without any reduction in product quality. As such, it is one of the best quality drones at this price level.
The 3DR Solo has robust construction and the capability to utilize multiple satellites so as to lock on your GPS position. This results in accurate follow me action wherever you go.
In addition to that, you can set it to fly using multiple flight modes. This comes in handy when you want the drone to take a variety of shots during its flight time.
This drone can be controlled using a dedicated application which you can download into your smartphone or tablet.
After installation, the 3DR Solo is easy to configure into Follow Me mode. Here are some of the features that make it an outstanding drone.
Features of 3DR Solo Follow Me Drone
The 3DR Solo has various flight modes.
They include GPS, Orbit, Follow Me, Selfie and Cable Camera modes. You can shift from one to the next during flight so as to capture dynamic footage or still shots.
Also, it can fly at high speeds of 55mph which dwarf many of the competitor models in its price-tier.
Moreover, the drone can spend up to 22 minutes in the air on a full charge and fly for up to 800 meters.
Its flight time makes the drone ideal for capturing follow me footage or photography.
The 3DR Solo is very responsive as you fly it. This is because the drone utilizes 2 microprocessors that make it an exceptionally smart device.
Possibly its best feature is that this drone can be used with the 4th and 5th models of the GoPro Hero camera.
Pros
It has a long flight time of 22 minutes on one charge
This drone can fly for up to 800 meters
It utilizes multiple satellites simultaneously for accurate GPS locking
The 3DR Solo achieves high speeds of 55mph
It has 2 microprocessors
It is affordable
Cons
You have to buy the 3-axis gimbal separately
DJI Spark Follow Me Drone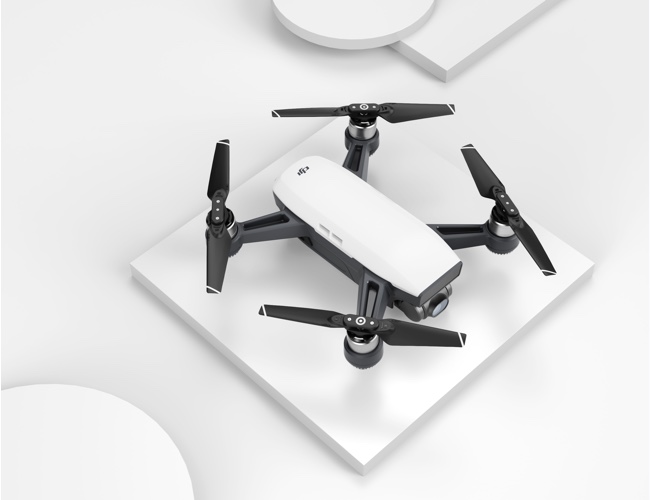 Ever since this drone was released, it has received critical acclaim from enthusiasts, technology buffs, extreme sports fans, and drone designers.
The DJI Spark is a small, compact drone which delivers excellent performance for its size. It weighs only 300 grams and measures 14.3cm by 14.3cm by 5cm in size.
Furthermore, it is blazingly fast.
This little drone can reach speeds of 6.7mph. Hence, it can effectively keep up with targets which are moving at high velocity. By doing so, the DJI Spark is the preferred choice by fans of extreme sports looking to record their exploits.
Often referred to as a pocket drone, it has specifications which would put much bigger drones to shame. For example, you can manipulate it using an application or a dedicated controller.
This gives you the freedom of choice in terms of navigating the drone.
Furthermore, despite its small size, the drone does not compromise on snapshot and footage quality. Users can also enjoy toggling between a variety of smart features delivered by its manufacturer.
Features of DJI Spark Follow Me Drone
The DJI Spark drone is quite small in size. As such, it is light and easy to carry around.
While using the application to control it, you can get a maximum range of 200 meters. However, if you utilize the dedicated controller, you have a range of up to 1.9 miles!
This is a marvelous feature that other drones would struggle to achieve. Furthermore, this allows you to fly it at high altitude which can help to avoid obstacles during flight.
This drone can fly for up to 15 minutes on a full charge and has a miniature sized gimbal capable of navigating 2 axes. Its onboard camera can capture snapshots or footage in Full HD.
Quite interestingly, the drone supports gesture control. This means that you can fly it by simply moving your hands in the air. By relying on special motion sensors, it can recognize the movement of your hands and respond accordingly.
Last but not least, its capability can be adjusted readily using the various features built into it by the manufacturer. Examples of some of these include Palm launch and face recognition.
Pros
A range of 1.9 miles
Its compact size and lightweight
DJI Spark can be controlled with a smartphone or special controller
It has a 2-axis gimbal that guarantees constant camera stability
The onboard camera takes pictures and footage in high definition
It provides access to proprietary settings
Responds to gesture control
Cons
Its flight time is only 15 minutes
Mavic Pro Quadcopter Follow Me Drone

Designed with 4 rotors, this drone is capable of providing excellent follow me capability.
The Mavic Pro Quadcopter is small in size yet has multiple built-in features which ensure that it can be successfully utilized in various settings and environments.
Furthermore, the little drone manages to impress due to its features. Not only does it capture very high-quality snapshots and footage, but its range is also mind-blowing.
In addition to that, its controls are easy to learn and manipulate. The drone has multiple follow me modes such as Trace, Profile and TapFly.
Furthermore, a collection of sensors allow the drone to avoid collisions with obstacles and maximize hovering capability.
Features of Mavic Pro Quadcopter Follow Me Drone
This drone weighs only 743 grams and can achieve high speeds of 65mph. By achieving this weigh to speed ratio, the drone shows efficient construction.
Furthermore, the Mavic Pro Quadcopter has an onboard camera which is capable of capturing 4K photos and footage. In addition to that, it has a range of up to 4.3 miles.
This effectively allows you to capture extreme wide angle footage or fly the drone at very high altitudes.
To give you complete control over the unit during flight, the drone has 4 vision sensors.
It can also actively avoid obstacles in its path of flight. This is thanks to a combination of sensors and onboard precision made possible by multiple satellite compatibility. This navigation mechanism can work both indoors and outdoors.
In addition to that, it ensures that the device can hover and move in any direction you desire.
Overall, this quadcopter has one of the most high-tech flight control mechanisms available today.
Pros
Compact size
It can fly at high speeds
This drone's camera can capture 4K quality footage
The drone has a very long range
Precision vision sensors allow for accurate navigation and obstacle avoidance
It can be controlled using a smartphone or tablet application
Phantom 4 Pro Follow Me Drone

This is one of the highest performance drones available today.
Capable of excellent stabilization, the Phantom 4 Pro Quadcopter is versatile and effective at the same time. It makes use of proprietary technology to spot and follow you.
In addition to that, it employs a collection of flight control modes which allow you to creatively manipulate its flight patterns.
Its camera also has a high capability. To ensure top results while taking photos or shooting footage during flight, this quadcopter has collision avoidance technology.
Thanks to its collection of features, this drone is very versatile. It can be used for surveying, cinematography on a professional level, photography and capturing footage for marketing purposes.
Features of Phantom 4 Pro Follow Me Drone
The Phantom 4 Pro Quadcopter uses ActiveTrack technology so as to lock on your GPS position and follow you accurately. Thanks to an effective gimbal, this drone stays stable throughout its flight time.
You can capture crisp, clear photos and footage with it thanks to an onboard 4K camera.
Whenever you fly this drone, it can steer clear of obstacles thanks to an automatic collision avoidance system. As such, it can fly right around obstacles or come to a stop if there is no room for navigation.
In addition to that, the drone has some built-in flight modes such as Terrain Follow and TapFly which make piloting it easier.
The Phantom 4 Pro drone provides excellent value for money because it is available for purchase in a bundle.
Pros
This drone has effective stabilization technology
It has a 4K camera
The drone has built-in collision avoidance technology
Phantom 4 Pro Quadcopter has built-in automatic flight modes
It is affordable and comes in a value pack
Cons
The gimbal does not accept settings beyond 70%
Yuneec Typhoon Hexacopter Follow Me Drone
This is one of the best follow me drones in the market today. The Yuneec Typhoon Hexacopter is not only effective, it provides a professional drone experience at an affordable price.
Firstly, it has 6 rotors which provide you with maximized maneuverability. Furthermore, the unit has a failsafe mechanism that utilizes multiple rotors at the same time.
For easier piloting, the drone has multiple flight control modes. To keep it safe from obstacles and crashes, the drone also has automatically deployed protective systems. Its camera provides sharp, clear pictures and video footage.
As a result, you can rely on this drone for specialized aerial image and video capture for surveillance, surveying, selfies and film footage capture.
Features of Yuneec Typhoon Hexacopter Follow Me Drone
The Yuneec Typhoon Hexacopter is packed full of exceptional features.
First and foremost, the drone has a total of 6 rotors. These allow you to enjoy multiple axes of flight.  In case of a malfunction, it has a 5-rotor failsafe.
The take-off and landing features are automatically performed by the drone. In addition to that, the unit can land autonomously in case the battery gets too depleted to maintain flight.
Fitted with a 4K camera, the drone is able to capture UHD video and pictures.
With a 12 megapixel sensor and 98 degree viewing field, it is also capable of providing extremely wide angle pictures and video. There is a total of 8 different, built-in flight modes in this drone.
As such, you can focus on taking excellent shots as the drone hovers or flies around a target. The unit comes with a controller unit that's fitted with a 7-inch touchscreen. With dedicated buttons and a flight time of 25 minutes, the Yuneec Typhoon Hexacopter is the at the top of the best follow me drones that money can buy.
Pros
Multiple rotor system with a built-in failsafe
Automatic take off and landing features
High capability camera with a wide field of view
Effective and versatile touchscreen controller
Long flight time of 25 minutes on a full charge
Cons
Short range of only 150 feet
Conclusion: Best Follow Me Drones 2019
Drones have taken journalism, photography and film recording to a much higher level. Thanks to their excellent maneuverability and powerful cameras, these flying robots have revolutionized the way we capture footage from the air.
The models indicated above are the best follow me drones 2019. They are fitted with equipment, software and controller options which ensure that you have full control of the drone.
Some of them even allow you to control the camera independently as the drone flies. This gives you unparalleled freedom of flight. They have been used to capture breathtaking photos and sweeping footage of previously unreachable terrain.
Overall, each of the best follow me drones listed here can deliver an exceptional follow me footage experience.